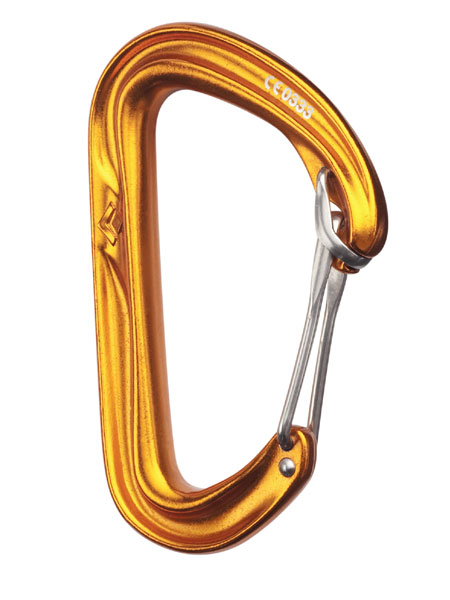 Black Diamond Hoodwire Carabiner (BD Orange)
Thanks to its innovative stainless steel wire hood, the hot-forged Black Diamond HoodWire carabiner fuses keylock functionality with wiregate performance
Other Ways to Shop
This item is also available from these other fine merchants:
*Clicking 'Shop →' link will bring you to the listed merchant's site
Hot-forged construction
Patent-pending stainless steel wire hood eliminates snagging
Wire gate won't freeze in alpine conditions
Lightweight and designed for all-around use
Weight: 37 g (1.3 oz)
Closed Gate Strength: 24 kN (5395 lbf)
Open Gate Strength: 8 kN (1,798 lbf)
Minor Axis Strength: 8 kN (1, 798 lbf)
Gate Opening: 24 mm (.94 in)
Thanks to its innovative stainless steel wire hood, the hot-forged Black Diamond HoodWire carabiner fuses keylock functionality with wiregate performance. This lightweight, unique design makes for hassle-free, snag-free clipping and cleaning, plus it won't freeze up in alpine conditions or suffer from gate whiplash. Thanks to its hot forged construction, no detail on the HoodWire has been overlooked, including an optimized nose angle and a wide, rope-bearing basket radius.

More items by Black Diamond
Item: #37521609
MPN: 210138
* FREE standard shipping applies on all orders over $49.99 shipped within the contiguous U.S. Prepaid return label is included on all orders over $149.99 shipped within the contiguous U.S. Details.
Shop with confidence at NorwaySports.com: we have been serving outdoor enthusiasts since 1999 and are committed to providing an exceptional customer service. We are customer certified, trusted, or highly rated small and independently-owned online store.