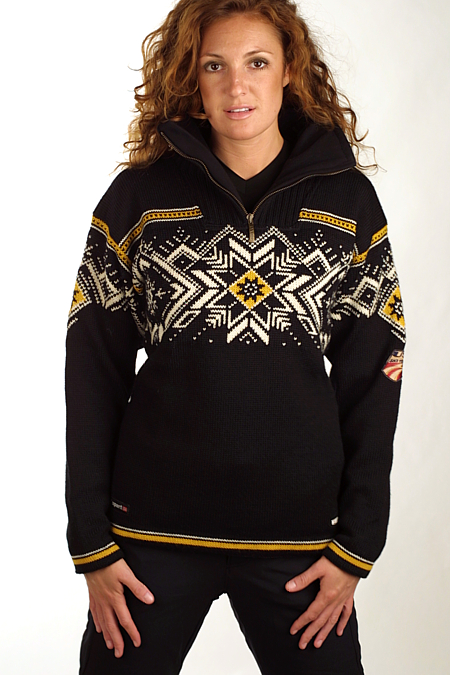 Dale of Norway Portillo GORE Windstopper Sweater Women's (Black)





This is an archived out-of-stock product that is no longer available for sale on our website.
See all current items from Dale of Norway
This is an all around good looking, technical sweater.
100% Norwegian wool, 4-ply.
Wind Stopper, breathable and Teflon water resistance.
Feminine fit, drawstring chord.
Combination of a women's feminine fit, Norwegian wool with the technologies of wind stopping water resistance. This is an all around good looking, technical sweater.
Drawcord
Drawcord
Feminine Fit
Feminine Fit
WINDSTOPPER
Teflon Fabric Protector
This model features Teflon® fabric protector from DuPont, which makes the sweater water, snow, and stain repellent—water rolls off, soils and stains just wipe away. Teflon® provides maximum water and stain repellency without affecting breathability of the fabric. It is durable to washing and dry-cleaning and warm ironing or tumble drying will optimize the performance of Teflon®. The material is CFC free and dermatologically tested.
All sweaters with Teflon® are also lined with Dale Polarwind®. The combination of these two technologies makes the sweater perfect for skiing and outdoor activities.
4-ply heilo
100% Norwegian Wool, the original which has been made at Dale of Norway since 1938 and is most frequently used yarn in Dale collections.

More items by Dale of Norway
Item: #3759504
MPN: 1238.F
* FREE standard shipping applies on all orders over $49.99 shipped within the contiguous U.S. Prepaid return label is included on all orders over $149.99 shipped within the contiguous U.S. Details.
Shop with confidence at NorwaySports.com: we have been serving outdoor enthusiasts since 1999 and are committed to providing an exceptional customer service. We are customer certified, trusted, or highly rated small and independently-owned online store.