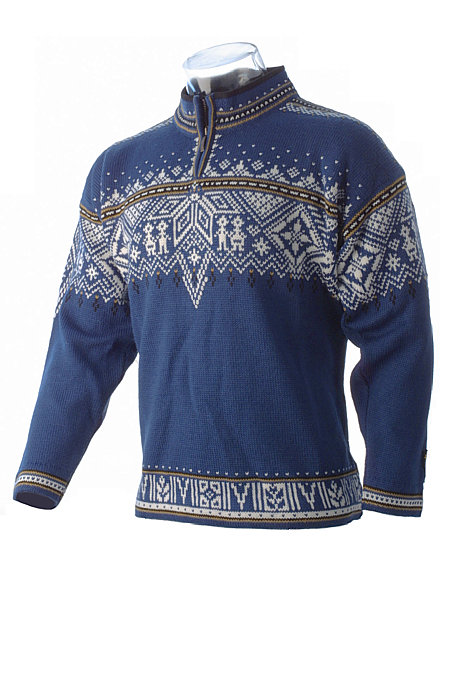 Dale of Norway Solferino Wool Sweater (Blue)

This is an archived out-of-stock product that is no longer available for sale on our website.
See all current items from Dale of Norway
Dale of Norway Solferino Wool Sweater
Dale of Norway sweater in 100% pure new wool
High quality wool and knit
Based on over 100 years of Norwegian knitting heritage
A symbolic and sporty design, with an international appeal
Dale of Norway has entered into an agreement with the Red Cross in Norway, and has developed a symbolic sporty design, which will have international appeal. Solferino is the village, where the battle in 1859 found place, and Henry Dunant (the founder of the Red Cross), got the idea about organized help to refugees. Red Cross, founded in 1919, is the world's largest humanitarian organization, providing assistance without discrimination to nationality, race, religious beliefs, class or political opinions. Their mission is to improve the situation of the most vulnerable people. Red Cross has seven ideologies in their movement, symbolized by VII in the design's border; these are: humanity, impartiality, neutrality, independence, voluntary service, unity and universality. This symbol could also be read inverted as IV, and this symbolizes the four times Red Cross has received the Nobel Peace Prize. The doves are another well-known symbol for peace. The border is put together in rectangular forms to visualize the Red Cross logo. The star in the center shows how Red Cross brings light in a dark situation for many people in need, and hope is symbolized with the stretching to the stars - power of humanity. The figures in front stand for the humanity, whose purpose is to protect life and health and to ensure respect for the human being. It promotes mutual understanding, friendship, cooperation and lasting peace amongst all peoples. The design is composed in a sporty and modern manner, and will be offered in both contemporary and traditional coloring.

More items by Dale of Norway
* FREE standard shipping applies on all orders over $49.99 shipped within the contiguous U.S. Prepaid return label is included on all orders over $149.99 shipped within the contiguous U.S. Details.
Shop with confidence at NorwaySports.com: we have been serving outdoor enthusiasts since 1999 and are committed to providing an exceptional customer service. We are customer certified, trusted, or highly rated small and independently-owned online store.