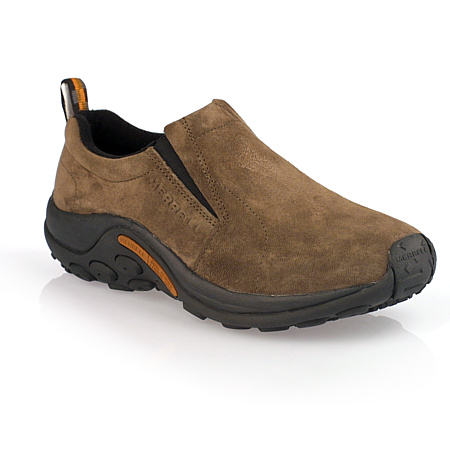 Merrell Jungle Moc Shoe Men's

This is an archived out-of-stock product that is no longer available for sale on our website.
See all current items from Merrell
The clog that revolutionized them all, Merrell's winter Jungle Moc.
Upper: Water resistant pigskin
Lining: Heavy Nylex treated with Aegis antimicrobial technology
Footbed: Anatomical ortholite
Midsole: Merrell air cushion
Outsole: Merrell Encore sole / sticky rubber
Elastic stretch bands
Lace ups are a thing of the past, slip-on comfort is the comfort of today. Slip these shoes on for a walk to the mailbox or as your "casual Friday" get-up. Either way, you'll be wearing the most comfortable shoes around.
Aegis Microbe Shield
While some anti-microbial treatments block odor, Aegis takes a more aggressive approach, with an onslaught of polymer spikes that rupture the cell walls of odor-producing microbes that stops odor in its tracks. Unlike chemicals that can wear down or produce super resistant bacteria, Aegis never wears out, won't leech out despite repeated washings, and won't harm the environment.
OrthoLite Comfort Foam Insoles
Ortholite provides out-of-the-box comfort for longer than any footbed, thanks to a special open cell polyurethane that retains 95% of its cushioning after the first year, far exceeding the 30% offered by traditional EVA footbeds. The open cell structure also lets air pass through, which allows odor and blister-causing moisture to evaporate. And as a finishing touch, an environmentally friendly biocide is added to combat microbes. Ortholite Insoles are produced in single, dual, or triple density.
Product Specifications
Materials & Fabrics
Upper Material:
Suede Leather
Midsole:
Molded EVA (Ethylene Vinyl Acetate)
Sizing & Fit
Shoe Width:
D (M, Medium)
Shoe Cut:
Low
Measurements
Average Weight:
1.090 lb.
Warranty
Warranty Duration:
12 month(s)
Warranty Type:
Limited Warranty

More items by Merrell
* FREE standard shipping applies on all orders over $49.99 shipped within the contiguous U.S. Prepaid return label is included on all orders over $149.99 shipped within the contiguous U.S. Details.
Shop with confidence at NorwaySports.com: we have been serving outdoor enthusiasts since 1999 and are committed to providing an exceptional customer service. We are customer certified, trusted, or highly rated small and independently-owned online store.