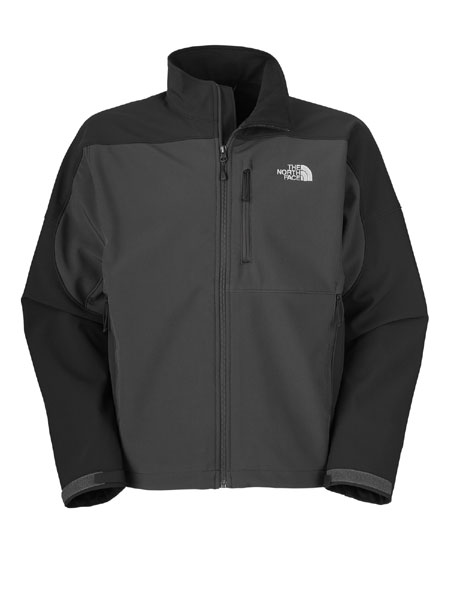 The North Face Apex Bionic Soft Shell Jacket Men's (Asphalt Grey / TNF Black)

Newly updated staple softshell from The North Face, the Apex Bionic jacket blocks 100% of the wind and is highly water-resistant for any aerobic activities in mild- to cold-weather conditions.
Other Ways to Shop
This item is also available from these other fine merchants:
*Clicking 'Shop →' link will bring you to the listed merchant's site
Apex bionic jacket features TNF Apex ClimateBlock fabric with wind permeability rated at 0 CFM, meaning it blocks 100% of the wind passing through which will keep you warm and comfortable in any condition
Inside of the jacket has a fleece backer for instant comfort and performance. The fleece is bonded to the soft shell to provide additional comfort and warmth, it also protects the soft shell from inner abrasion
Napoleon chest pocket to store all your essentials during the hike or climb such as knife, GPS, cell phone, carabiner or a credit card
Two hand pockets on both sides to keep your hands warm and to store any outdoor gear you might carry on your expeditions
Velcro adjustable cuffs with molded cuff tab for easy adjustment, even if you are wearing gloves or if you are adjusting them with a single hand during climb
Hem cinch cord adjustment inside pockets for easy adjustment and better aesthetics
Apex Bionic jacket is highly water-resistant, the fabric is virtually water-proof and the only way for water to find a way in is through the seams that are not fully taped
Zipper pull strings on gray color are YELLOW
For windy, cold-weather activities, this coveted soft shell keeps you warm and windchill-free beneath its windproof exterior and comfortable fleece backer. A hem cinch-cord allows you to adjust for a precise fit without taking hands out of pockets, and dual zip hand pockets and left Napoleon chest pocket provide ample space to stash essentials during your outdoor adventures. Whether worn as an exterior shell, or a standalone jacket, this jacket's ideal for mild aerobic activities in challenging, inclement weather.
The North Face Men's Outerwear Sizing Chart
| Men's | XS | S | M | L | XL | XXL | 3XL | 4XL | 5XL |
| --- | --- | --- | --- | --- | --- | --- | --- | --- | --- |
| Neck Size | 13-13½ | 14-14½ | 15-15½ | 16-16½ | 17-17½ | 18½ | 19¼ | 20 | 20¾ |
| Chest | 35 | 38 | 41 | 44 | 47 | 50 | 53 | 56 | 59 |
| Waist | 26 | 28-30 | 32-34 | 36-38 | 40-42 | 44 | 47 | 50 | 53 |
| Hip | 34 | 37 | 40 | 43 | 46 | 49 | 52 | 55 | 58 |
| Sleeve Length - from center back | 31½ | 32½ | 33½ | 34½ | 35½ | 36½ | 37½ | 38½ | 39½ |
| Inseam - short | 28½ | 29 | 30 | 30½ | 31½ | 32 | - | - | - |
| Inseam - regular | 30½ | 31 | 32 | 32½ | 33½ | 34 | - | - | - |
| Inseam - long | 32½ | 33 | 34 | 34½ | 35½ | 36 | - | - | - |
TNF Apex ClimateBlock
Wind Resistance: 0 CFM TNF Apex ClimateBlock is the most protective TNF Apex fabric available. Virtually waterproof and windproof, the fabric also maintains a comfortable level of breathability. TNF Apex ClimateBlock is ideal for trekking, skiing, and snowshoeing in challenging, inclement weather conditions.

More items by The North Face
The North Face Apex Bionic Soft Shell Jacket Men's Customer Product Reviews
5

out of

5
(based on
4
user reviews)
Almost waterproof

I have decided to test this jacket in rain as there was lot of talk about whether soft shells are waterproof or now. Pretty heavy rain, I was outside for about 20 minutes and I'm dry. The jacket is wet on the outside as it absorbed some of that rain but inside is completely dry. The only place where water made it through is the logo stitching on the sleeve. I would not probably use this as a rain jacket (well, it doesn't have a hood, I was wearing rain hat) but it's great to know that if you have this and it does start raining it will keep you dry.
Soft and stretchy but little boxy

I've seen this jacket all over the place so I've decided to give it a try. Feels and wears nice-it's nice and soft, has lots of stretch and quality is nice. One thing I didn't like that much that it has pretty wide cut, I guess to accommodate people who really don't use this for performance reasons. The jacket felt little boxy with tons of room in the body and wasn't really cut for when you lift your arms up, like during rock climbing for example. But as a casual jacket to wear on town or for a hike it's perfect. Just don't buy this if you need a performance piece.
Good deal

Very happy with my purchase. This jacket is great for pretty much any outdoor activity I find myself in. Good amount of stretch and it's pretty much waterproof. It also looks good and wears nice. I would recommend this jacket to anyone who is looking for a jacket that will keep you warm and dry and that can take some abuse.
Multipurpose soft shell jacket

This is a very nice soft shell jacket. Evidently there is a waterproof membrane inside the fabric, but because the seams are not taped or glued or whatever they cannot call it waterproof. I like the larger more roomy cut of the jacket that allows for easy layering. One issue I have with the jacket is the fact that arms are not fully articulated, so any activity such as rock climbing might be little tricky. But overall it's a sweet and versatile jacket that fits the bill.
Item: #37521841
MPN: AMVY.MN8
* FREE standard shipping applies on all orders over $49.99 shipped within the contiguous U.S. Prepaid return label is included on all orders over $149.99 shipped within the contiguous U.S. Details.
Shop with confidence at NorwaySports.com: we have been serving outdoor enthusiasts since 1999 and are committed to providing an exceptional customer service. We are customer certified, trusted, or highly rated small and independently-owned online store.