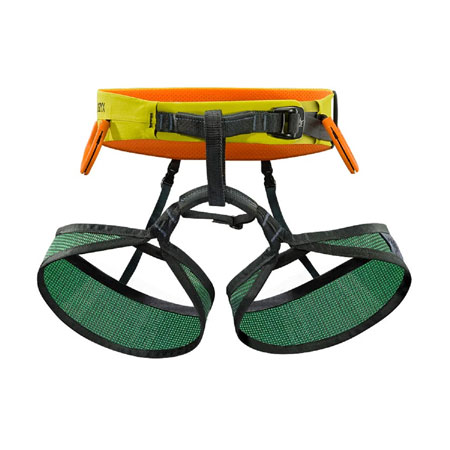 Arc'Teryx S220 LT Lightweight Climbing Harness (Chartreuse)

This is an archived out-of-stock product that is no longer available for sale on our website.
See all current items from Arc'Teryx
The lightest sports climbing harness from Arc'Teryx.
Wear safety markers on belay loop and tie-in points
WST load is evenly supported across entire harness structure
Self locking buckle
Thermoformed tie-in point
Stretchy mesh storage bag
Medium width WST (Warp Strength Technology) swami belt
Two injection molded reversible/ removable gear loops
Vapor Mesh leg loops
Sure Fit elasticized leg loop connectors provide a snug fit
Minimalists looking for the ultimate in featherweight design and superb fit will appreciate the performance margin gained with this incredibly thin, supple harness. The lightest Sport climbing harness from Arc'Teryx sheds more weight, and adds a fresh shape in the swami which is constructed using Warp Strength Technology (WST). Lghtweight, breathable conical shaped, Vapor Mesh leg loops constructed with a unidirectional mesh provide bridging support in one direction and total flexibility in the other. A strong thermo-formed tie-in point adds strength to a critical area.

More items by Arc'Teryx
* FREE standard shipping applies on all orders over $49.99 shipped within the contiguous U.S. Prepaid return label is included on all orders over $149.99 shipped within the contiguous U.S. Details.
Shop with confidence at NorwaySports.com: we have been serving outdoor enthusiasts since 1999 and are committed to providing an exceptional customer service. We are customer certified, trusted, or highly rated small and independently-owned online store.