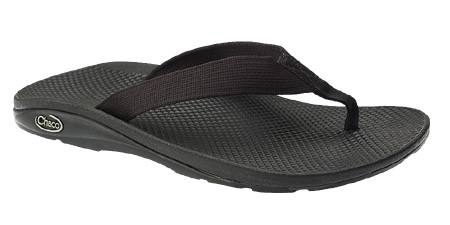 Chaco Flip EcoTread Men's (Black)

This is an archived out-of-stock product that is no longer available for sale on our website.
See all current items from Chaco
All flip, no flop. An innovative redesign of the essential summertime sandal.
BioCentric footbed with PU formulation oriented towards out-of-box comfort
Fixed straps anchor under mid-foot to eliminate "flop" and promote active use
Nylon toe piece engineered for the perfect blend of durability and comfort
EcoTread outsole features 25% recycled rubber
Old school flip-flops beware of Chaco's Flip! This flip has arch support, fixed straps, and is made of recyclable materials. Old flip-flops better get their act together, no one wants to wear a sandal that busts a strap while walking around. Sorry, but Duct Tape on your flippy-floppies just isn't in the "in" thing.
EcoTred
The EcoTread outsole is made from 25-percent recycled rubber, reducing our impact on the environment. EcoTread is available in charcoal and chocolate to complement our new midsole colors. Available on Zong, Hipthong and Wrapsody styles.
Product Specifications
Materials & Fabrics
Upper Material:
Outsole:
Sizing & Fit
Shoe Width:
Warranty
Warranty Type:

More items by Chaco
Item: #37518784
MPN: J100051
* FREE standard shipping applies on all orders over $49.99 shipped within the contiguous U.S. Prepaid return label is included on all orders over $149.99 shipped within the contiguous U.S. Details.
Shop with confidence at NorwaySports.com: we have been serving outdoor enthusiasts since 1999 and are committed to providing an exceptional customer service. We are customer certified, trusted, or highly rated small and independently-owned online store.