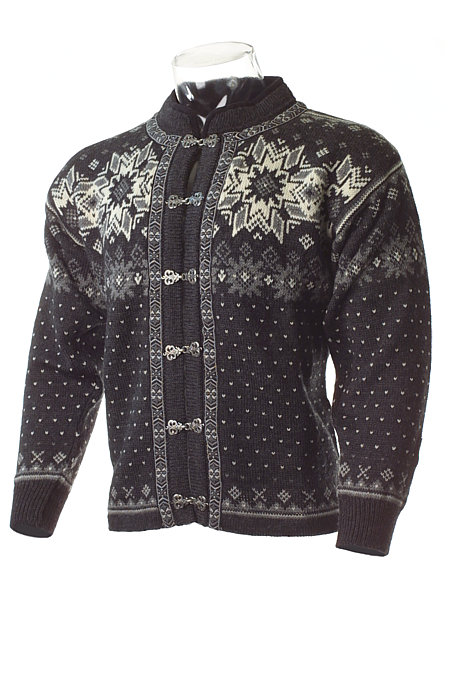 Dale of Norway Geiranger Cardigan (Grey)

This is an archived out-of-stock product that is no longer available for sale on our website.
See all current items from Dale of Norway
Dale of Norway Geiranger Cardigan
Dale of Norway Geiranger Cardigan
Cardigan with clasps, bands, fleece and elegant neckshield
Made in Norway of 100 % Norwegian wool
Inspiration for this cardigan comes from Geiranger, located on the Northwest coast of Norway. It is one of the most beautiful scenarios in Fjord-Norway. Majestic and snow-covered mountaintops, beautiful and wild waterfalls, green exuberance and a deep, blue fjord are attributes of the beautiful Geiranger. The beautiful octagon shaped Geiranger church is located with a view of the fjord, and this is the inspiration for the octagon shaped flowers that decorates the chest and the back of the cardigan. Beneath the chest the flowers symbolize the exuberant and colorful landscape that takes your breath away when you come to Geiranger in the spring or summer. The lice at the waist is inspired by the special scenery in the spring, where the valleys are green and mountain tops still covered by snow. On the bottom of the waist you can find the majestic mountains surrounding Geiranger. These mountains are very popular among hikers and rock climbers. The band next to the clasps is inspired by the waterfalls and the rivers running down from the mountains at Geiranger down into the famous, clear Geirangerfjord.

More items by Dale of Norway
* FREE standard shipping applies on all orders over $49.99 shipped within the contiguous U.S. Prepaid return label is included on all orders over $149.99 shipped within the contiguous U.S. Details.
Shop with confidence at NorwaySports.com: we have been serving outdoor enthusiasts since 1999 and are committed to providing an exceptional customer service. We are customer certified, trusted, or highly rated small and independently-owned online store.