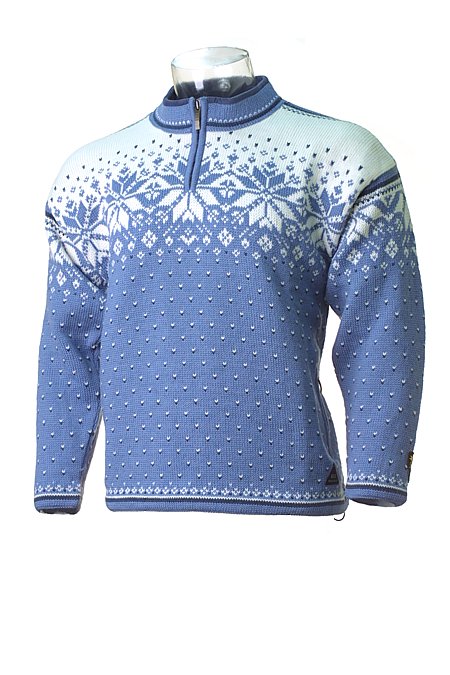 Dale of Norway Hafjell Polarwind with Teflon (Light Blue)

This is an archived out-of-stock product that is no longer available for sale on our website.
See all current items from Dale of Norway
Dale of Norway Hafjell Polarwind with Teflon
Dale of Norway sweater in 100% pure new wool
Dale Polarwind windstopper inner liner
Teflon fiber treatment for water and snow repellancy
Based on over 100 years of Norwegian knitting heritage
The Hafjell from Dale of Norway is made for active sport and leasure wear. The sweater is lined with Dale Polarwind windproof yet highly breathable lining. The sweater is also treated with Teflon making the sweater water and snow repellent. Hafjell is the new top model for women named after the ski resort, which hosted the alpine skiing competition during the 1994 Olympic Games in Lillehammer. The Hafjell area, not far from Lillehammer, goes deep into the Norwegian ski history, and has brought up some of the best Norwegian skiers. Long and cold winters combined with hilly terrain provide skiers with some of the most challenging ski tracks in Norway The Hafjell design is fresh and sporty and combines trendy and classic colors. Hafjell is lined with Dale Polarwind and treated with Teflon. Equipped with the characteristic Dale zip neck and lined with fleece. Inside the pocket there is a ski zip holder. The Dale Sport collection consists of garments for active sports and leisure wear.The designs are unisex, with distinct colors, striking patterns and functional detailing, such as windproof, breathable lining, zip-pockets, shock-cord closures, and fleece lining in the neck. A Dale Sport sweater with windproof lining is ideal for active sports and outdoor endeavors, and will keep you warm under extreme weather conditions. Included in this collection are also Dale of Norway`s hunting/outdoor sweaters with unique detailing.

More items by Dale of Norway
Item: #3751035
MPN: 3475.D
* FREE standard shipping applies on all orders over $49.99 shipped within the contiguous U.S. Prepaid return label is included on all orders over $149.99 shipped within the contiguous U.S. Details.
Shop with confidence at NorwaySports.com: we have been serving outdoor enthusiasts since 1999 and are committed to providing an exceptional customer service. We are customer certified, trusted, or highly rated small and independently-owned online store.