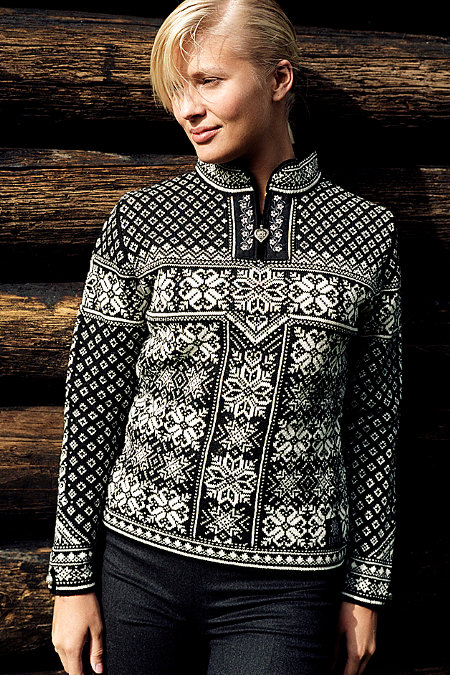 Dale of Norway Peace Sweater Women's (Black / Off-white)

This is an archived out-of-stock product that is no longer available for sale on our website.
See all current items from Dale of Norway
Dale of Norway's beautifully fashioned Peace sweater for every occasion.
100% Wool
Fleece lined neck
1/4 Length Zipper
Pewter clasps on cuffs
Custom made zip pull
You may think that the Peace is just another title, but Dale views it a little differently. This elegant and graceful woman's ski sweater from Dale Olympic Heritage, is inspired by a few Olympic fundamentals- build a peaceful and better world through education and sport, dropping discrimination. Not only does it serve to provide a message of spirit, but it's all about function too. The fitted feminine pullover is truly sophisticated yet, it is the perfect choice for skiing or after ski wear. The design is inspired by some of the most prominent patterns from Norwegian folk costumes, the distinctive 'Selbu rose' heart pattern being a central element. These hearts are repeated on the back and arms, and the borders around the waist and chest are inspired by the traditional Setesdal cardigan pattern. Voss, which is the neighbor village of Dale, is well known for its beautiful costumes and the skirt from this area has also been an important source of inspiration. The delicate embroidery around the zip-neck is also typical for traditional Norwegian folk costumes. The Peace sweater features a comfortable fleece lined zip-neck and is adorned with traditional Norwegian embroideries, special pewter clasps on cuffs and a custom made zip pull.
Dale of Norway Women's Sizing Chart
Please use the following table to determine your size.
| | XS | S | M | L | XL | XXL |
| --- | --- | --- | --- | --- | --- | --- |
| US women's size | 2 | 4 - 6 | 8 - 10 | 12 - 14 | 16 - 18 | 20 - 22 |
| EUR women's size | 32 | 34 - 36 | 38 - 40 | 42 - 44 | 46 - 48 | 50 - 52 |
| Chest | 32" / 82 cm | 34" / 88 cm | 37" / 94 cm | 39" / 100 cm | 42" / 106 cm | 44" / 112 cm |
| Waist | 26" / 66 cm | 28" / 72 cm | 31" / 78 cm | 33" / 84 cm | 35" / 90 cm | 38" / 96 cm |
| Seat | 35" / 90 cm | 38" / 96 cm | 40" / 102 cm | 42" / 108 cm | 45" / 114 cm | 47" / 120 cm |
Wash/Care Instructions for Dale of Norway Sweaters
Hand wash (30°C/86°F) or machine wash (30°C/86°F) at wool cycle. Turn inside out. Use a mild washing detergent. Squeeze gently, do not wring. Rinse well. Dry on a flat surface, pull gently into shape if necessary. Do not dry in sunshine or in a tumble dryer. Can be pressed, using wool setting. This garment can be dry cleaned, but dry cleaning may change the brightness of the colors and the softness of the wool. Store knitted garments folded, not hanging.
All Dale of Norway products have washing labels inside the garments. Some products are machine wash and some are handwash. Here are some general instructions on how to wash and care for your Dale product:
Hand wash at 30°C/86°F using a detergent with a neutral pH -or- Machine wash at 30°C/86°F using a wool cycle and a detergent with a neutral pH
Do not bleach or wash with chlorine based products
Iron at low heat settings and, if necessary, turn inside out
May be dry cleaned, but this may change the brightness of the colors and softness of the wool
Do not tumble dry
Dry flat, and never in direct sunlight
WATER REPELLENT garments should be ironed after washing. Do not use softener when washing
Dale of Norway Peace Sweater Women's Customer Product Reviews
5

out of

5
(based on
1
user reviews)
Very elegant and warm

I was looking for a wool jacket that would be little bit more dressy and less sporty looking and Peace sweater fit the bill. Great feel and good feminine fit, the jacket is nice and warm. Little details like the zipper pull and Olympic logo make it even more special. I wear this after skiing and also back in town.

More items by Dale of Norway
Item: #3757498
MPN: 1331.F
* FREE standard shipping applies on all orders over $49.99 shipped within the contiguous U.S. Prepaid return label is included on all orders over $149.99 shipped within the contiguous U.S. Details.
Shop with confidence at NorwaySports.com: we have been serving outdoor enthusiasts since 1999 and are committed to providing an exceptional customer service. We are customer certified, trusted, or highly rated small and independently-owned online store.