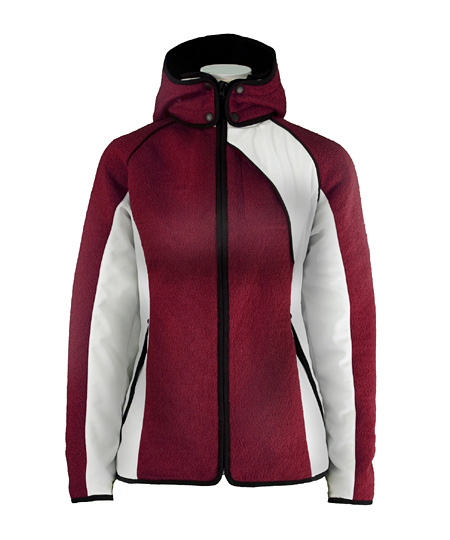 Dale of Norway Val Gardena Knitshell Jacket Women's (Vino Tinto / Off-white)



This is an archived out-of-stock product that is no longer available for sale on our website.
See all current items from Dale of Norway
Functionality in a fashion piece; Dale of Norway's knitshell collection is a must have for skiers and snow-goers alike.
Wool knitshell 3-layer technology
Outerlayer consists of 100% Norwegian wool
Water, soil, and stain resistant
Windproof middle membrane
Fleece backed inner for instant comfort
Fully lined
Double front pockets with zippers
Inside pockets
Mp3 solution inner
Norwegian flag patch on left arm
Highly technical with a stylish appeal, Dale of Norway's Val Gardena jacket features a unique color paneling of tightly knit wool. The wool exterior of the Val Gardena naturally sheds water, is stain resistant, and durable for on hill and off situations. The windproof membrane of the jacket blocks wind while still permitting breathability. Function truly meets fashion in Dale of Norway's Knitshell Val Gardena jacket.
Dale of Norway Women's Sizing Chart
Please use the following table to determine your size.
| | XS | S | M | L | XL | XXL |
| --- | --- | --- | --- | --- | --- | --- |
| US women's size | 2 | 4 - 6 | 8 - 10 | 12 - 14 | 16 - 18 | 20 - 22 |
| EUR women's size | 32 | 34 - 36 | 38 - 40 | 42 - 44 | 46 - 48 | 50 - 52 |
| Chest | 32" / 82 cm | 34" / 88 cm | 37" / 94 cm | 39" / 100 cm | 42" / 106 cm | 44" / 112 cm |
| Waist | 26" / 66 cm | 28" / 72 cm | 31" / 78 cm | 33" / 84 cm | 35" / 90 cm | 38" / 96 cm |
| Seat | 35" / 90 cm | 38" / 96 cm | 40" / 102 cm | 42" / 108 cm | 45" / 114 cm | 47" / 120 cm |
Wash/Care Instructions for Dale of Norway Sweaters
Hand wash (30°C/86°F) or machine wash (30°C/86°F) at wool cycle. Turn inside out. Use a mild washing detergent. Squeeze gently, do not wring. Rinse well. Dry on a flat surface, pull gently into shape if necessary. Do not dry in sunshine or in a tumble dryer. Can be pressed, using wool setting. This garment can be dry cleaned, but dry cleaning may change the brightness of the colors and the softness of the wool. Store knitted garments folded, not hanging.
All Dale of Norway products have washing labels inside the garments. Some products are machine wash and some are handwash. Here are some general instructions on how to wash and care for your Dale product:
Hand wash at 30°C/86°F using a detergent with a neutral pH -or- Machine wash at 30°C/86°F using a wool cycle and a detergent with a neutral pH
Do not bleach or wash with chlorine based products
Iron at low heat settings and, if necessary, turn inside out
May be dry cleaned, but this may change the brightness of the colors and softness of the wool
Do not tumble dry
Dry flat, and never in direct sunlight
WATER REPELLENT garments should be ironed after washing. Do not use softener when washing
Dale of Norway Knitshell
The KNITSHELL collection by Dale of Norway is a unique combination of performance and style.
Dale of Norway, in collaboration with WINDSTOPPER is proud to offer a new unprecedented technology to the market: KNITSHELL. For a number of years, Dale of Norway and WINDSTOPPER have collaborated to produce top quality clothing. The new KNITSHELL technology demanded numerous hours of research and development to successfully conserve the properties of wool while creating a membrane that could perfectly adhere to knit.
The new 3-layer laminated system of water repellent Dale of Norway yarn, and a soft WINDSTOPPER membrane, gives you a garment that keeps you warm, comfortable and looking good in any conditions. So zip up for a great day on the mountain, and remember that advanced weather protection does not have to stop you looking your best.
Feminine Fit
Feminine Fit
Product Specifications
Materials & Fabrics
Water Resistant:
Yes
Features & Options
Closure Type:
Zipper
Sizing & Fit
Fit Type:
Regular
Features & Options
Wind Resistant:
Yes
Dale of Norway Val Gardena Knitshell Jacket Women's Customer Product Reviews
5

out of

5
(based on
1
user reviews)
For Skiers

I must admit, I am a Dale of Norway fanatic. Their Sport line is my favorite technical ski wear line. I ski nearly every day during the winter and am very particular about what I wear. This jacket without a doubt, holds up to the Dale standard. It's super comfortable and really is windproof. The jacket doesn't say that it's waterproof, but it pretty much is minus the lack of seam-sealed technology which cannot be done with wool. In short, this jacket is a pristine ski jacket.

More items by Dale of Norway
Item: #37521097
MPN: 8164.V
* FREE standard shipping applies on all orders over $49.99 shipped within the contiguous U.S. Prepaid return label is included on all orders over $149.99 shipped within the contiguous U.S. Details.
Shop with confidence at NorwaySports.com: we have been serving outdoor enthusiasts since 1999 and are committed to providing an exceptional customer service. We are customer certified, trusted, or highly rated small and independently-owned online store.