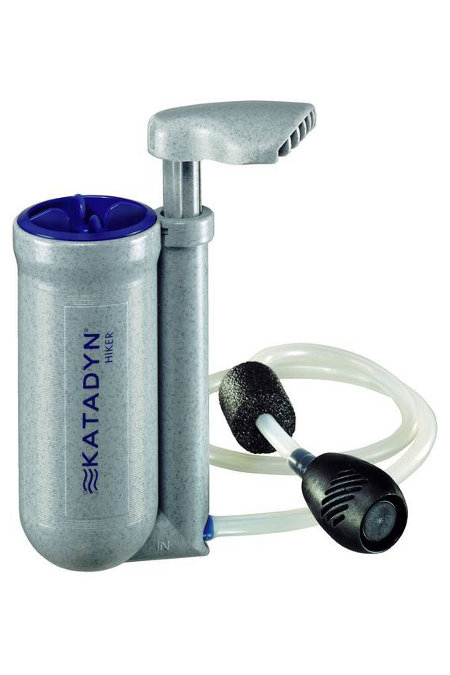 Katadyn Hiker Microfilter Water Filter (Hiker Microfilter Water Filter)
This is an archived out-of-stock product that is no longer available for sale on our website.
See all current items from Katadyn
Katadyn Hiker Microfilter Water Filter
Filter physically removes particles, protozoa, and bacteria down to 0.3 microns in size, including giardia, salmonella, cryptosporidium and others
Glass-fiber element is pleated for increased surface area to handle silt and muddy water
Activated-carbon core adsorbs chemicals and pesticides to improve taste of water
Pre-filter at hose inlet filters to 150 microns, removing larger contaminants before they reach the main filter to increase its life span
Quick-connect adapter
Includes a carry sack and bottle adapter that fits most water bottles
8 pound pump force
Removes protozoa and bacteria
The Katadyn Hiker is the best selling microfilter in the US Outdoor Market. Lightweight and easy to use design is the best choice for all around use. Unique, pleated cartridge design provides fast and easy pumping. Convenient and handy for 1-2 persons (e.g. while hiking or trekking). Compatible with hydration bladders. Includes: Prefilter, bottle adapter and carry bag

More items by Katadyn
Item: #37514030
MPN: 8013629
* FREE standard shipping applies on all orders over $49.99 shipped within the contiguous U.S. Prepaid return label is included on all orders over $149.99 shipped within the contiguous U.S. Details.
Shop with confidence at NorwaySports.com: we have been serving outdoor enthusiasts since 1999 and are committed to providing an exceptional customer service. We are customer certified, trusted, or highly rated small and independently-owned online store.