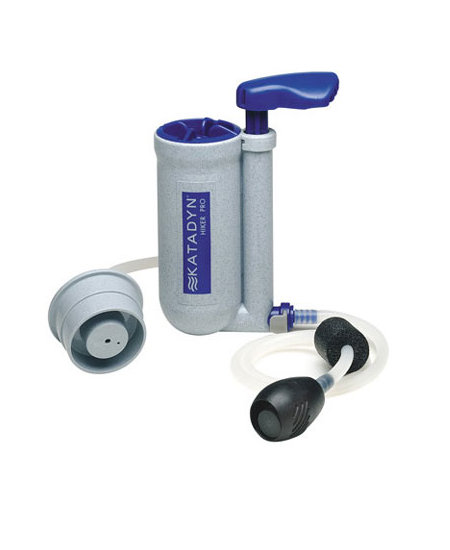 Katadyn Hiker PRO Microfilter (Hiker Pro)
This is an archived out-of-stock product that is no longer available for sale on our website.
See all current items from Katadyn
Fresh water in the palm of your hand.
Removable filter protector extends cartridge life
Quick connect fittings make installation and removal of input and output hoses easy
Connects directly to hydration packs with 1/4" drink tubes (ex:Camelbak)
Pleated cartridge offers more surface area
Activated carbon core for reduction in unpleasant tastes or odors from water
The Katadyn Hiker PRO has been built to venture into the backcountry for extended periods of time. Pumping about 1 liter per minute the Hiker PRO is one of the fastest backpacking hand pumps available. It also connects perfectly to Nalgene mouths and Cambelbaks enabling you to use both hands to pump the water and not have to worry about spilling.

More items by Katadyn
Item: #37513122
MPN: 8014531
* FREE standard shipping applies on all orders over $49.99 shipped within the contiguous U.S. Prepaid return label is included on all orders over $149.99 shipped within the contiguous U.S. Details.
Shop with confidence at NorwaySports.com: we have been serving outdoor enthusiasts since 1999 and are committed to providing an exceptional customer service. We are customer certified, trusted, or highly rated small and independently-owned online store.