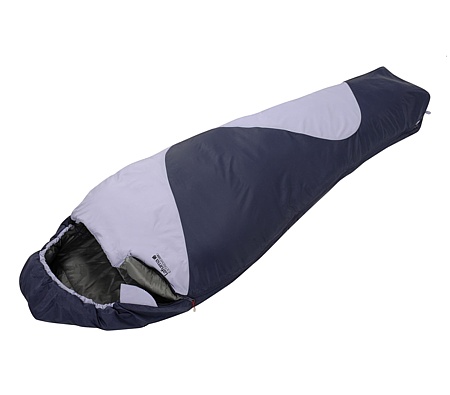 Lafuma Extreme 800 Sleeping Bag Women's

This is an archived out-of-stock product that is no longer available for sale on our website.
See all current items from Lafuma
Warm summer nights call for Lafuma women's specific 40F sleeping bag.
Temperature: 40 F ( 4.4 C )
Weight: 1 lb 13 oz ( 822 g )
Bag Length: 6 ft 3 in ( 1.9 m )
Bag Chest Width: 32 in ( 82.28 cm )
Stuff Sack: 323 cu in ( 5 L )
Synthetic 1.5D plus 3D fiber at 50 g/m
Water-repellent treated ripstop nylon shell
With warm summer nights come star gazing and satellite spoting camp outings. Snuggle up for the perfect night's rest in Lafuma's new forty degree sleeping bag. Its coldproof flap will keep out morning chills and cinch hood blocks out light and keeps in warmth. Ah summer, the best outdoor camping season of them all.
Coldproof Flap
The coldproof flap prevents cold air from entering your sleeping back and disturbing your slumber.
Luminous Pull Zips
Glow-in-the dark illuminated pull tabs help you find the whereabouts of your zippers in the dead of night.
PP Reinforcements
Specially designed for Lafuma's Lady's products. The pads protect the areas most sensitive to cold by adding an additional layer at the chest and polar wool at the feet.
Twinable
Two sleeping bags can be joined for two people to sleep under the same cover.
Zipper Guards
Anti-jamming construction prevents the lining of sleeping bags from getting jammed in the zipper.

More items by Lafuma
Item: #37519185
MPN: LFC1412
* FREE standard shipping applies on all orders over $49.99 shipped within the contiguous U.S. Prepaid return label is included on all orders over $149.99 shipped within the contiguous U.S. Details.
Shop with confidence at NorwaySports.com: we have been serving outdoor enthusiasts since 1999 and are committed to providing an exceptional customer service. We are customer certified, trusted, or highly rated small and independently-owned online store.