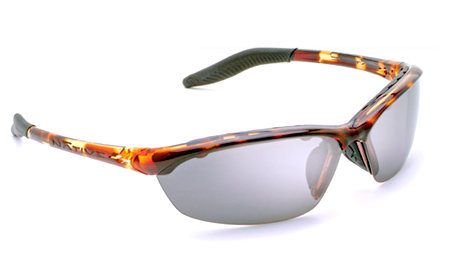 Native Eyewear Hardtop Polarized Sunglasses (Tobacco / Gray)

This is an archived out-of-stock product that is no longer available for sale on our website.
See all current items from Native
Native Eyewear Hardtop Sunglasses
Fit: Best fits a medium to large profile
Weight: 0.7 oz.
Includes: Sportflex and optic repair kit, protective storage unit with Native logo
Interchangeable lenses
Ryhno-Tuff Air Frame
Interchangeable Gator-Lok temples
Venting for fog free lenses
Cam-Action hinges
Mastoid temple grip for superior staying
Anti-Ocular intrusion system
Break free from the hardtop and onto the dirt trails while sporting Native's Hardtop sport sunglasses. These polarized lens sunglasses will stay on your face in the most extreme conditions. Their lightweight approach and ventilation system makes these glasses ideal for the most active person out there.
Anti-Ocular Intrusion System
This revolutionary system is designed to prevent your lenses from dangerously shooting toward your eyes in the event of a high velocity impact.
Cam-Action Hinges
This patented feature allows the temples to quickly lock into position, getting you ready for action.
Cushinol Temple Boots
This material ensures a soft feel and custom fit regardless of head shape or size.
Interchangeable Gator-Lok Temples
This patented feature used in conjunction with the Native interchange key allows you to quickly switch from standard temples to Native's sports-band for a more secure fit on extreme terrain.
Interchangeable Lens System
Designed to quickly and efficiently utilize all of Native's lens options, so you can adjust to all light conditions.
Mastoid Temple Grip
This proprietary design feature ensures the temple ends hug the mastoid bone (behind your ears) which allows for a secure and comfortable fit.
Ryhno-Tuff Air Frames
A proprietary high performance thermoplastic material, which is extremely lightweight, yet durable enough to withstand high velocity collisions and temperature extremes.
Venting System
Incorporates exhaust vents into its design framework to enhance airflow which virtually eliminates fog and condensation. This unique design feature is the only system available that allows maximum ventilation while blocking extraneous incoming light.

More items by Native
Item: #3759851
MPN: 118352.502
* FREE standard shipping applies on all orders over $49.99 shipped within the contiguous U.S. Prepaid return label is included on all orders over $149.99 shipped within the contiguous U.S. Details.
Shop with confidence at NorwaySports.com: we have been serving outdoor enthusiasts since 1999 and are committed to providing an exceptional customer service. We are customer certified, trusted, or highly rated small and independently-owned online store.