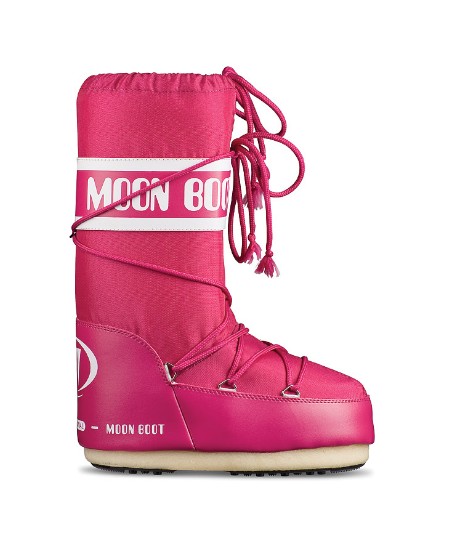 Tecnica Moon Boot Classic Nylon (Bouganville)

This is an archived out-of-stock product that is no longer available for sale on our website.
See all current items from Tecnica
The one and only
Nylon upper
Moonboot logo
Polyester lining
You dont need to take a rocket into deep space to enjoy Tecnicas Moonboot Nylon. This fantastic mid rise boot will keep you nice and warm on those cold winter days. With a nylon upper and polyester lining, this tough boot is ready for action. Great for sledding or just hanging out in the snow. Boot height: 39/41: 15 inch.
Moon Boots Sizing Chart
US Men's Size
2.5 - 3
3.5 - 4
4.5
5 - 5.5
6
6.5
7.5
8.5
9
9.5
10.5
11.5
12
Moon Boot Size
35/38
39/41
42/44
45/47
US Women's Size
5
6
6.5
7
7.5
8
8.5
9.5
10
10.5
Product Specifications
Materials & Fabrics
Upper Material:
3D Mesh (Nylon)
Inside Lining Material:
Fleece (Polyester)
Sizing & Fit
Shoe Width:
A
Shoe Cut:
High
Tecnica Moon Boot Classic Nylon Customer Product Reviews
5

out of

5
(based on
3
user reviews)
SIZING

Look at the sizing chart if you don't know what your European size is. The boots are unisex, there is no left or right. If you are in-between sizes, I'd go size up as these are meant to be worn pretty loose (they are after-ski boots by design...)
Really warm

These shoes are super warm and cozy. Moon boots are really easy to get in and out of, are super warm and comfortable. Perfect for chilling after day on the slope or for getting a slice of pizza in the village. This is a leisure boot, not a true snow boot for walking a significant distance.
They're back

I grew up wearing these boots and picked them up again to wear them to the football game. Boy are they warm and comfy!

More items by Tecnica
Item: #37520561
MPN: 14004400.062
* FREE standard shipping applies on all orders over $49.99 shipped within the contiguous U.S. Prepaid return label is included on all orders over $149.99 shipped within the contiguous U.S. Details.
Shop with confidence at NorwaySports.com: we have been serving outdoor enthusiasts since 1999 and are committed to providing an exceptional customer service. We are customer certified, trusted, or highly rated small and independently-owned online store.